Modul'up from Forbo Flooring Systems
Wednesday, April 17, 2019 - 10:58
Forbo Flooring Systems has launched a brand new, adhesive free sheet vinyl product category into its flooring portfolio – Modul'up. Requiring no adhesive, tackifier or double-sided tape, Modul'up can not only be installed quickly, but it can also be walked on immediately after installation, reducing downtime and minimising impact on day-to-day business. It also offers excellent dimensional stability and an unrivalled choice of colour and design, making it an attractive proposition for applications where a quick turnaround is required to minimise disruption.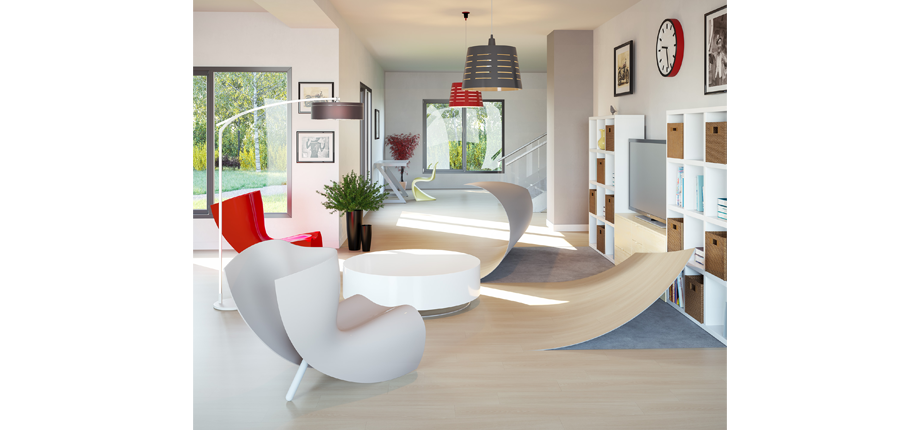 Thanks to its double structural stabilisation system, which incorporates two layers of fibre glass fleece within the construction (compared to only one layer in standard vinyl), Modul'up will not curl, ruck or roll once installed. What's more, its unique single sided tape system, which ensures the product stays tightly in place, means Modul'up is quicker to install and can also be fitted while the premises are still in use, as there is little or no noise, dust or adhesive odours. This makes it the ideal solution for application areas such as those within aged care and education buildings, where disruption needs to be kept at a minimum.
Garry Bateman, Head of Technical at Forbo, explains the benefits further: "The Modul'up range provides end users with a product that will not only contribute positively to better indoor environments as it is free from the usual constraints associated with adhesives such as odours, dust or VOCs from subfloor preparation – but it also offers an array of contemporary colour and designs to choose from. The range consists of a palette of 20 colours, all of which are available in the compact version, which ensures minimal indentation and is perfect for high traffic areas, and the enhanced Decibel (19dB) version, which is ideal for environments where impact noise needs to be minimised."
From the ten natural wood items, including realistic rustic oak shades with wood embossing, to the seven elegant concrete and stone effects, alongside three bright colour pops which are particularly suited for primary education, Modul'up delivers an unrivalled choice of design in adhesive free vinyl.
At the end of its long service life, Modul'up is also instantly ready for recycling, as once lifted, there is no adhesive residue stuck to the back of the material, and the subfloor is left clean and sound for repeat installation.
What's more, significant savings in both time and money can be achieved when it comes to replacing a Modul'up floor covering with another Modul'up floor covering later down the line, as it is quicker to remove and install; there is no subfloor preparation or drying time required and no delay in walking on the material after installation compared to a glued down floor covering.
For more information on Modul'up please visit www.forbo-flooring.co.uk/modulup